Registrations have closed.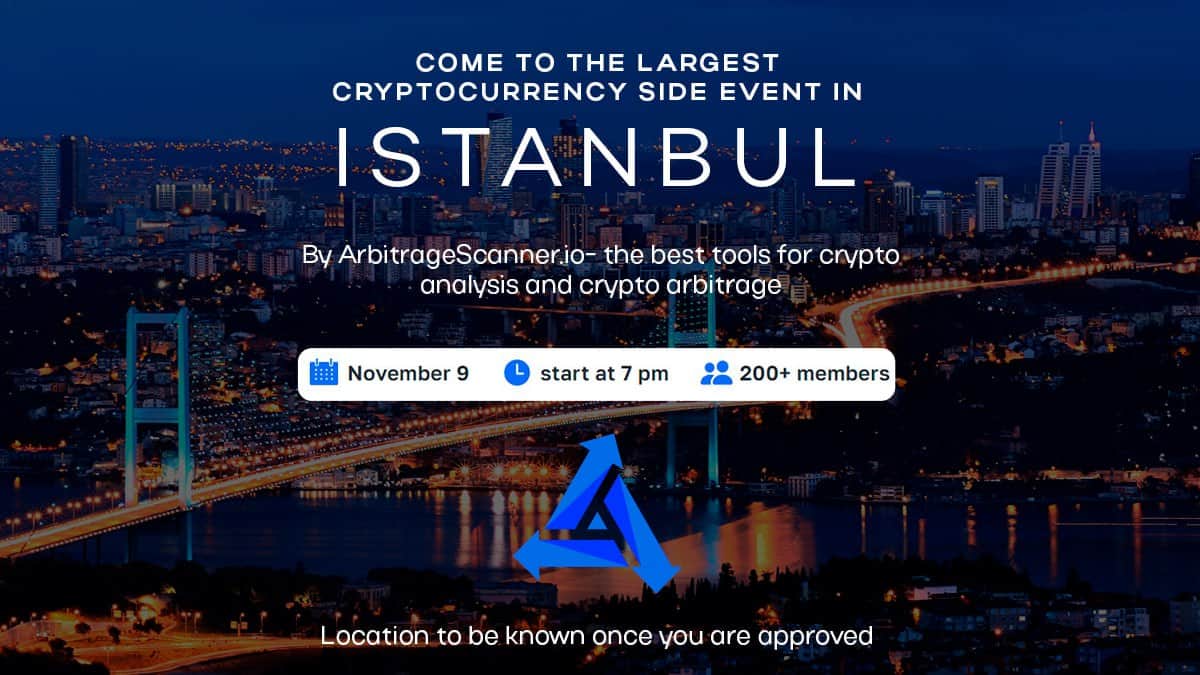 Event Type
Event date
9 Nov 2023 @ 12:00 AM (GMT)
to
9 Nov 2023 @ 11:00 PM (GMT)
Location
Website
Crypto Events | November 9 – Istanbul| ArbitrageScanner Review
Come to the largest cryptocurrency Web3 side event in Istanbul! By ArbitrageScanner.io – the best tools for crypto analysis and crypto arbitrage.
ArbitrageScanner Events is a series of side events around the world. An exclusive event for ArbitrageScanner clients and top professionals in the crypto industry.
The goal of the event is to create the largest crypto community that will gather in different parts of the world and interact with each other. This is not a conference, there will be no booths or speakers. The ArbitrageScanner Event is a closed event for 200+ people to gather the best in the crypto industry, relax after Binance Blockchain Week and make new business connections, which each of the event participants will be able to do.
Place and date: Istanbul, November 9.
Closed entrance by lists. Clients of the ArbitrageScanner service with a valid subscription can participate in the event. There are 2 tariffs for participants – Free Pass and VIP Pass. More detailed information can be found on the website or from managers.
Among the participants: ArbitrageScanner customers, crypto/business experts, bloggers and media representatives
Networking in an informal atmosphere where you can find new partners, like-minded people in the crypto and business industry and just discuss interesting topics.
Lounge area, food and drinks are at your disposal
The first Crypto Event by ArbitrageScanner was held in Dubai on October 26, after the Blockchain Life conference. 130+ people, a three-deck yacht and a lounge area for all attendees. There was plenty of networking and insights from the brightest minds in the crypto industry. Relaxing in an informal setting after the busy days of the conference is what ArbitrageScanner does for its clients.
The next Web3 event will be held in Istanbul on November 9. The next one is December 9 in Bangkok.
ArbitrageScanner clients have access not only to closed crypto event